BAGUIO [ A One Stop Recycling Platform I Recycle (Mobile APP)]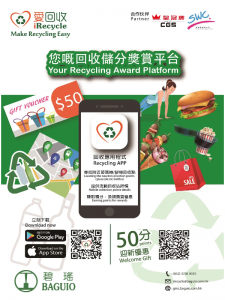 Originated in 1980, Baguio Green Group (stock code: 1397) is committed to creating and maintaining a "Clean & Green" environment for the society. Over the years, Baguio has developed into a group of well-established and socially responsible companies providing integrated environmental services, ranging from Professional Cleaning, Integrated Pest Management, Horticulture & Landscaping to Waste Collection & Recycling.
Crown Gas Stoves (Holdings) Company Limited & Sze Wo Chaan Company Limited has been growing steadily in the past 40 years with its core business in providing quality, reliable and safe gasoline equipment services and products to the community of Hong Kong.
iRecycle is a brand new mobile application to encourage the public to separate at source and recycling through redemption. After downloading the "iRecycle", the registered user can earn the "Point" by recycling (glass bottle and/or plastic bottle (type 1 and type 2)) at our designated collections points and get the rewards ranged from Food & Beverage, Shopping, Entertainment and Healthcare.
For more details about iRecycle mobile APP and the rewards, please visit gmc.baguio.com.hk .
In addition, "iRecycle" also gains support from Sze Wo Chaan Company Limited and Crown Gas Stoves (Holdings) Company Limited to launch "door to door bottle collection services". Joyce Lee, Managing Director from Crown Gas Stoves (Holdings) Company Limited said, "Crown Gas Stoves (Holdings) Company Limited always concerns and participates in green living. This is my honor to cooperate with Baguio and participate in the "iRecycle" project. We invite Sze Wo Chaan Company Limited to provide door to door bottle collection service to provide a better user experience. "iRecycle" users can have bonus points while contributing to environmental protection easily. Looking ahead, while green technology is widely applied in environmental protection, "iRecycle" can successfully enhance its corporate social responsibility, promote public awareness on environmental protection and build a sustainable future.
Thank you for supporting environmental protection.
Service Hotline
iRecycle Customer Service Hotline: (852) 3705 9315
Door-to-door collection customer service hotline: (852) 2382 8431 / WhatsApp (852) 63000133
Please click the following link https://bit.ly/2Yw79Nv to download iRecycle APP in order to collect points.
More information about gas stoves, please visit https://crown-cgs.com.hk/